Instructor: Marty Collin
Level: Progressing Beginner
Ages: Teens and Adults
Fall Session II (10 weeks): **SOLD OUT**
Tuesdays, 10/6/20 - 12/22/20
*No class on 11/3 or 11/24
5:30pm – 6:25pm
Classes will be held online via Zoom.
Description: This class is a continuation of Guitar – Beginner I. Students will learn new tunes, a little harder than the first, and in new keys. Students will also learn new skills for playing with others, listening for chord changes, starting a tune with "taters" and ending them with "shave and a hair-cut." A few times throughout the semester, this class will join other beginner classes to hone group playing skills such as chopping and playing with accompaniment.
Prerequisite: Beginner – Guitar I or equivalent. Equivalent level would include the ability to play a few simple tunes such as Cripple Creek, Soldier's Joy, and Old Joe Clark independently with steady rhythm. Feel free to ask for guidance regarding placement before registering.
What you'll learn in this class:
Tunes:

 8th of January, Lonesome Road Blues, Red Haired Boy (other similar material may also be used)

Group playing skills: 

How to kick-off and end a tune (Taters + ending lick, playing with back-up, coming in for a solo
What students will need:
Functional guitar (bridge and all 6 strings intact, tuners in working order)

Pick
Tuner
Notebook & pencil
Recording device optional
Next Level: Guitar – Beginner II
If paying in full doesn't work for your budget, you can pay in monthly installments. Pay for your first month below, and we'll send an invoice for the remaining payments.
Course Curriculum
Available in days

days after you enroll

First Section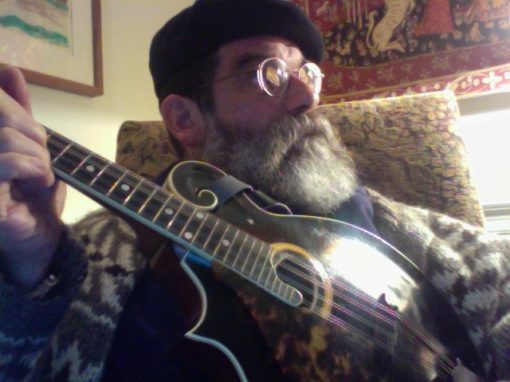 Marty Collin
With a borrowed guitar from a neighbor down the road and a library card, twelve-year-old Marty Collin taught himself how to play guitar, and his life long journey in acoustic music never faded. A life devoted to teaching, university and high school English instructor, theatre director, published playwright, that musical spark accompanied him on his journey from Cleveland, Ohio, to Haverhill, Massachusetts, to Durham, New Hampshire, to College Park, Maryland, to Amenia, New York, and to Hagerstown, Maryland. Newly transplanted to Charlottesville, Virginia, he has recently taught weekly mandolin, banjo, and guitar lessons and was the faculty advisor to the folk music club at Saint James School in Maryland. From the 2017 Saint James School yearbook, his former mandolin student, Martin McGuigan, Class of 2017, writes:And of course, who could think of Mr. Collin and not immediately hear music? He is by no means shy in sharing his love of music. As he integrates his passion into almost every facet of Saint James life, he shows the true extent to which he is a member of this community. Whether playing banjo as a crossing guard for home cross country meets, playing guitar in his classes, or playing mandolin with me and the rest of our Blue Chair bluegrass group every Tuesday, his dedication to music knows no bounds.