Instructor: Adam Larrabee
Level: Advancing Beginner
Ages: Teens & Adults
Fall Session II (10 weeks): 
Sundays, 10/11/20 - 12/13/20
1pm – 1:55pm
Classes will be held online via Zoom.
Description: This class is a continuation of Banjo Beginner II. Students will continue to practice their right hand rolls and speed, while also continuing to develop group playing skills by learning new chord positions, listening for chord changes, and learning fills for vocal songs. Students will also be adding some tunes in the key of D this semester, including some traditional tunes (Soldier's Joy and Angelina Baker).  A few times throughout the semester, this class will join other beginner classes to hone group playing skills such as chopping and playing with accompaniment.
Prerequisite: Banjo – Beginner II or equivalent. Equivalent skills include the ability to play a handful a tunes, such as Cripple Creek, Old Joe Clark, Boil 'em Cabbage Down, and Cumberland Gap, independently and with steady rhythm.
What Students will Leave this class having learned:
Tunes: John Hardy, Lonesome Road Blues (may include other similar material)
Technique:

 new chord positions, right hand speed/working on different rolls, vamping in ¾

Group playing skills:

 How to kick-off and end a tune (pick-up notes, taters, counting into a song, shave and a hair-cut), using a capo, playing with back-up, taking "breaks," playing in the keys of A, D, and G.
What students will need:
Functional banjo (bridge and all 5 strings intact, tuning pegs in working order)

Picks (1 thumb pick and two finger picks)

Tuner
Notebook & pencil
Course Curriculum
The curriculum block is dynamic. As you add curriculum to your course, you'll see it automatically populate here.
EXAMPLE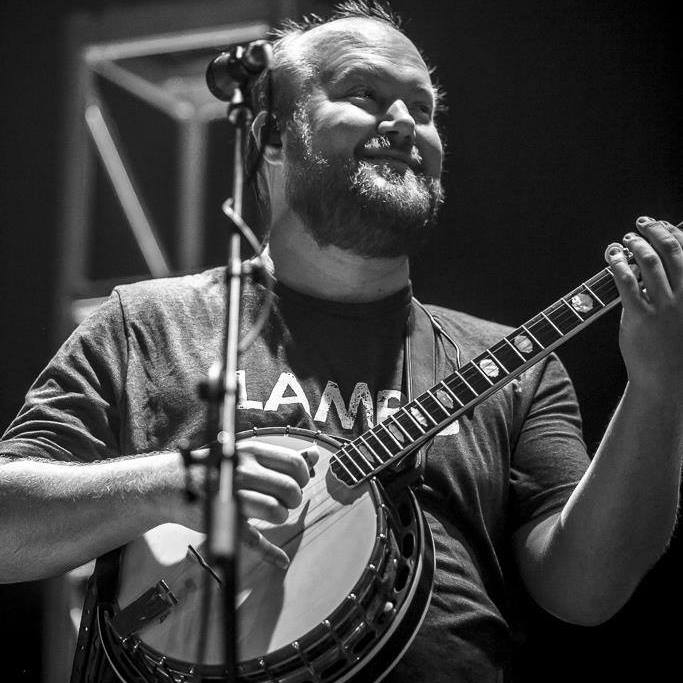 Adam Larrabee
Adam Larrabee has appeared as a sideman on Bruce Hornsby's album "Spirit Trail" and has involved himself in a wide variety of projects in the past few years from playing banjo in the bluegrass group "Joy Kills Sorrow", guitar in the chamber-jazz group "Andromeda", classical mandolin with "The Richmond Classical Guitar Quartet" and mandocello with "Enigmatica", recording and performing with rising jazz prodigy Grace Kelly, and his exploration of the music of Central France with "Le Bon Vent". In 2006, he won an Independent Music Award for his composition "Norwegian Slip" in the world/fusion category. Most recently, Adam has released a duo CD with pianist Bob Hallahan entitled "The Street Where You Live" in addition to a recreation of Duke Ellington's classic recording "Money Jungle" recording with his current trio with drummer Brian Jones and bassist Randall Pharr. In October 2009, Adam played banjo with "Love Canon", backing up rising pop/folk star Josh Ritter on a sold out two week tour of Ireland. In Oct 2010 Adam traveled to Ankara, Turkey for the Haceteppe Konservatory Jazz Festival and played in the premiere of "Ben Seni Variations" a work for Orchestra and Jazz Octet by Doug Richards. Adam taught jazz theory, composition and arranging at The New England Conservatory in Boston for nine years and currently lives in Charlottesville, Virginia and teaches classical and jazz guitar at Virginia Commonwealth University in Richmond, banjo and mandolin at the University of Virginia and improv and small jazz ensemble at James Madison University in Harrisonburg.