Instructor: John Spangler
Level: Advancing Beginner
Ages: Teens & Adults
Fall Session II (10 weeks): Tuesdays, 10/6/20 - 12/22/20
6:30pm – 7:25pm
Classes will be held online via Zoom.
Description: This class is a continuation of Banjo Beginner II. Students will continue to practice their right hand rolls and speed, while also continuing to develop group playing skills by learning new chord positions, listening for chord changes, and learning fills for vocal songs. Students will also be adding some tunes in the key of D this semester, including some traditional tunes (Soldier's Joy and Angelina Baker).  A few times throughout the semester, this class will join other beginner classes to hone group playing skills such as chopping and playing with accompaniment.
Prerequisite: Banjo – Beginner II or equivalent. Equivalent skills include the ability to play a handful a tunes, such as Cripple Creek, Old Joe Clark, Boil 'em Cabbage Down, and Cumberland Gap, independently and with steady rhythm.
What Students will Leave this class having learned:
Tunes: John Hardy, Lonesome Road Blues (may include other similar material)
Technique:

 new chord positions, right hand speed/working on different rolls, vamping in ¾

Group playing skills:

 How to kick-off and end a tune (pick-up notes, taters, counting into a song, shave and a hair-cut), using a capo, playing with back-up, taking "breaks," playing in the keys of A, D, and G.
What students will need:
Functional banjo (bridge and all 5 strings intact, tuning pegs in working order)

Picks (1 thumb pick and two finger picks)

Tuner
Notebook & pencil
Course Curriculum
The curriculum block is dynamic. As you add curriculum to your course, you'll see it automatically populate here.
EXAMPLE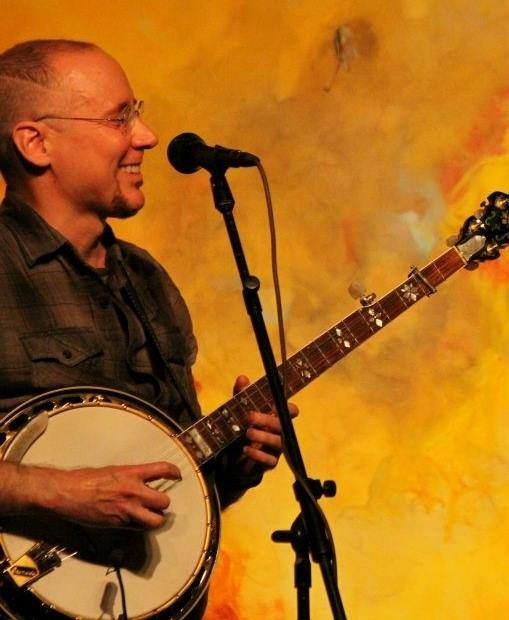 John Spangler
John took up the banjo at age 13, focusing on the hard-driving 3-finger style of masters such as Earl Scruggs and Sammy Shelor, as well as the melodic ideas of Bobby Thompson, Bill Keith and Tony Trischka. While traditional bluegrass has always been a passion, he also enjoys taking the banjo into genres where it is less well known. Over the years he has played with many bluegrass/americana bands most recently in Pennsylvania and Virginia, and previously in Europe where he performed in various countries and taught banjo at the ETM cole des Musiques Actuelles in Geneva Switzerland. He has been in opening acts for Tim O'Brien, Frank Wakefield, the Jerry Douglas Band, Bela Fleck, and the Carolina Chocolate Drops among others. Lately he has been onstage with the Staunton and Charlottesville bands Bourbon Barrel Congress, the Will Overman Band, and Gallatin Canyon.