Instructor: Adam Larrabee
Level: Beginner
Age: Teens & Adults
Fall Session II (10 weeks): Sundays, 10/11/20 - 12/13/20
10:30am – 11:25am
Classes will be held online via Zoom.
Description: This introductory banjo class is perfect for first time banjo players! Students will be taught foundational skills in technique, learn their first tunes, and be immersed in the culture of traditional music by learning to play with others in a fun, and positive environment. A few times throughout the semester, this class will join other beginner classes to hone group playing skills such as chopping and playing with accompaniment.
Prerequisite: None! This class will be starting students from scratch. Students with a little prior experience but with only a tune or two under their belt may join this class as well.
What you'll learn:
Technique: basic rolls (Forward, Backward, Forward-Backward, and Thumb In & Out)
Tunes/Songs: 

Boil 'em Cabbage Down, Cripple Creek, Old Joe Clark (other similar tunes may also be used)

Group Playing skills:

 playing with accompaniment, vamping

Other: Reading TAB
What students will need:
Functional banjo (bridge and all 5 strings intact, tuners in working order)

Tuner

Picks (1 thumb pick and two finger picks)

Capo
Notebook & pencil
Recording device optional
Next Level: Banjo – Beginner II for Teens and Adults
If paying in full doesn't work for your budget, you can pay in monthly installments. Pay for your first month below, and we'll send an invoice for the remaining payments.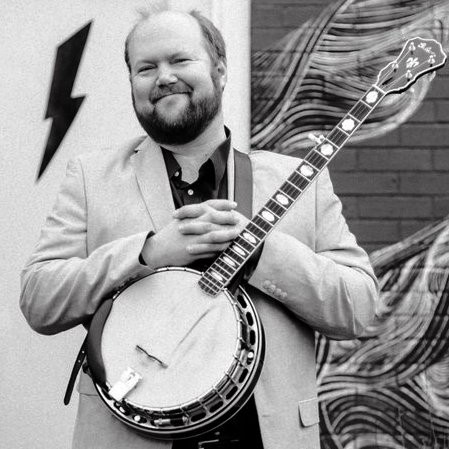 Adam Larrabee has appeared as a sideman on Bruce Hornsby's album "Spirit Trail" and has involved himself in a wide variety of projects in the past few years from playing banjo in the bluegrass groups Joy Kills Sorrow and Love Canon, guitar in the chamber-jazz group Andromeda, classical mandolin with The Richmond Classical Guitar Quartet and mandocello with Enigmatica, recording and performing with rising jazz prodigy Grace Kelly, and his exploration of the music of Central France with Le Bon Vent. In 2006, he won an Independent Music Award for his composition "Norwegian Slip" in the world/fusion category. Adam taught jazz theory, composition and arranging at The New England Conservatory in Boston for nine years. He currently lives in Charlottesville and teaches jazz guitar at JMU.